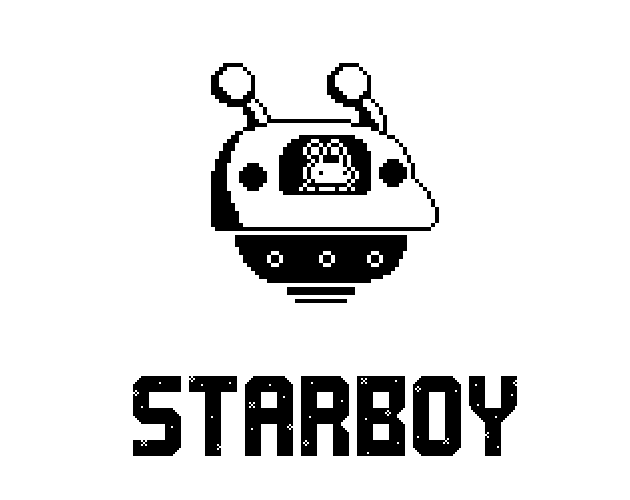 StarBoy
A downloadable game for Windows, macOS, and Linux
During its journey StarBoy crashed and got lost in an unknown planet, help him return back to its spaceship!

INFO
6 levels, for approximately 1-2 hours of gameplay, depending on your skill and will to 100% it
Progress is saved on level completion
Completing the 6 levels unlocks a level selection screen so you can look for missing shards or try to achieve a better time
Collected shards are saved when returning to title screen or level selection from the pause menu
CONTROLS
| Actions | Keys |
| --- | --- |
| Move | ARROW KEYS | A | D |
| Jump | X | J |
| Grab | Throw | C | K |
| Climb Ladder | ARROW KEYS | W | S |
| Open Pause Menu | ENTER | RETURN |
CREDITS

m3x6 font by Daniel Linssen
Some sounds made with sfxia by rxi
Follow me on Twitter!
Purchase
In order to download this game you must purchase it at or above the minimum price of $2.50 USD. You will get access to the following files:
starboy-windows.zip
24 MB
starboy-mac_gles2.zip
37 MB
starboy-windows-godot_3.2.3.zip
24 MB
Comments
Log in with itch.io to leave a comment.
Very good game, will elaborate later.
I actually played through it twice and really enjoyed the whole experience. Platforming was challenging at times (especially if you want to 100% the game), but to reasonable extend. Character control felt really nice and natural. I also enjoyed the aesthetic of the game. 1 bit art style was a selling point for me and some areas were a real eye candy. Great job!
The Linux version is a 64-Bit executable, but I could also upload a 32-Bit version if the need arise (although I'd have no means to test if it works properly)
I actually can't play this, because movement keys frequently just stop working.

You can see it twice in this short clip - first when I'm running to the right and stop dead, and second when I'm jumping and don't make the jump because movement just stops working in mid-air.

Which OS are you running?
Are you playing with a controller?

Windows 10 Home. I tried both controller and keyboard, both have the same problem.
I've uploaded a new version, "starboy-windows-godot_3.2.3.zip"
Let me know if it fixes the issue
This is great! What a fun little platformer. And it runs well on Linux.

My Mac (running High Sierra) can't open either mac download- it says the file is damaged. Would love to play when the bug is fixed!
It's a known issue some itch games have with the latest macOS versions.
The fastest solution is to download the game through the itch App
Alternatively, follow those steps:
Unzip the downloaded file.
Press Command + Space Bar on your Mac Keyboard. Type in "Terminal" When you see Terminal in the Spotlight search list, click it to open the app.
copy paste the following line in the terminal window, paying attention to copy the last white space as well

xattr -d com.apple.quarantine 
drag and drop the StarBoy.app in the terminal window and hit enter.
Pros
Solid fun level design
Great music, sound effects and overall feel of the sound design
Unique light mechanic that is well explored
1 Bit art style :)
Cons
No full screen support
Inconsistent controller support (Menu is mapped to A and B on Xbox controller, making remapping those buttons in a third party program impossible)
(Fixed in patch)
Overall great game! Would recommend 😊
Thanks a lot for the useful feedback!
I'll be sure to improve controller support and add a full screen option in an upcoming patch.
I'm glad you had fun!

This game is a little gem!
I love the art style, it's a great homage to the Commodore/Spectrum era.
The mechanics are deeper than you would expect at first sight and the level design is very well thought out: you can have fun playing casually but mastering the game by collecting all the shards requires serious effort and advanced skills.
Definitely recommended!
Thanks for the kind words and for taking the time to write this review!
I'm glad to hear you enjoyed StarBoy!